DriveLock adalah software dengan Solusi Keamanan "Next Generation" yang mampu menawarkan perlindungan secara berlapis dan memiliki pilihan modul yang fleksibel dan didukung integrasi penuh dengan Active Directory yang dapat diatur dengan manajemen terpusat (Central Management) melalui Console Management. Saat ini DriveLock telah digunakan di 30 negara dengan customer dari berbagai industri termasuk sektor keuangan, kesehatan, manufaktur, badan pemerintahan dan sektor lainnya.
Berikut modul yang dapat dipilih dan disesuaikan dengan kebutuhan, antara lain :
Administration - Base Module (DriveLock Management Components, DriveLock Enterprise Service, Reporting and Security Education)
Modul dasar yang wajib untuk setiap mesin klien yang mencakup fungsi Administrasi (DriveLock Management Components, DriveLock Enterprise Service), Reporting dan Security Education.
Device Control (Device and Interface Control, File Filter & Data-Flow Control & Encryption-2-Go)
- Menentukan user mana yang diizinkan membaca atau menyalin file
- Menentukan user mana yang diizinkan menggunakan media tertentu pada waktu tertentu
- Mengontrol user mana yang diizinkan menyalin file tertentu pada media tertentu
- Menentukan user mana yang diizinkan untuk menyalin file tertentu ke media tertentu
- Mengontrol media removable dan interface control
Application Control (Application Control & Inventory)
- Manajemen aplikasi secara ketat dan efisien
- Mudah dan efektif untuk dikonfigurasi
- Pengaturan yang dipersonalisasi tetap aktif setelah upgrade software.
- Blacklist dan whitelist
Disc Protection (PBA for BIOS & UEFI, transparent encryption of complete hard drive volumes & recovery)
- Fungsionalitas DriveLock Pre-Boot Authentication (PBA) untuk BIOS dan UEFI
- High-end full disc encryption dengan Pre-Boot Authentication
- Enkripsi transparan dari Hard Drive dan pemulihan (recovery) yang lengkap.
File Protection (transparent encryption of folders and files locally & on network shares)
- Enkripsi file dan folder secara lokal dan jaringan
- Enkripsi cloud dengan kemampuan akses mobile
- Support Google Drive, OneDrive, Dropbox
Web Security (Close based Internet Security)
- Perlindungan real-time secara lokal dan jaringan
- Fungsi blacklist dan whitelist
- Pelaporan terperinci
Semua modul di atas dapat dipilih sesuai kebutuhan yang mana modul tersebut telah terintegrasi dengan Manajemen Terpusat (Centralize Management) dengan tingkat kustomisasi yang dapat diatur secara kompleks melalui Group Policy dalam menerapkan kebijakan kontrol terhadap media removable, aplikasi dan perangkat, enkripsi, anti-virus dan lainnya.
Holistic Multi-Layer-Concept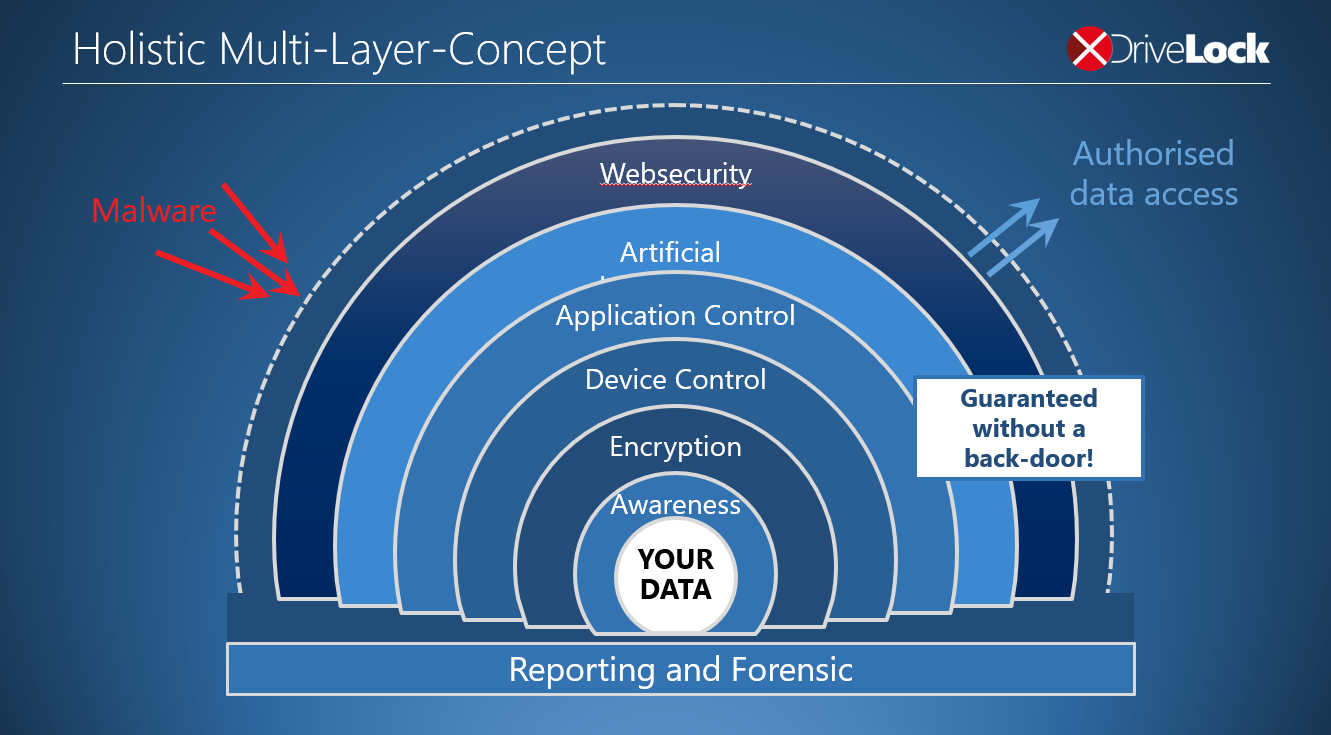 DriveLock Architecture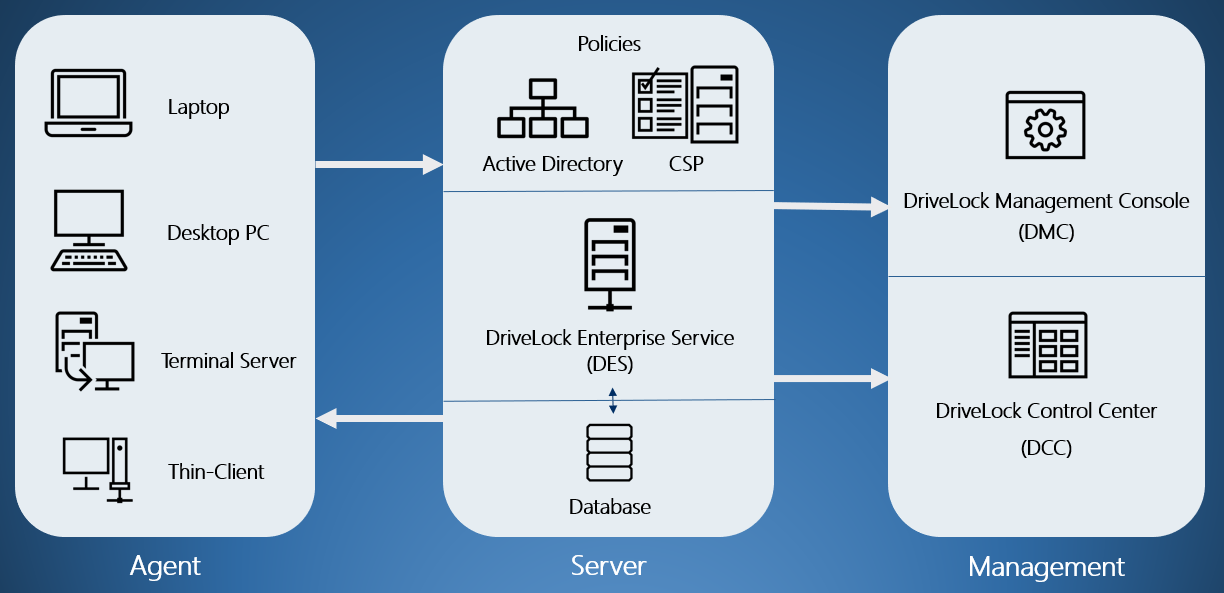 Available on-premise, in the cloud or as hybrid model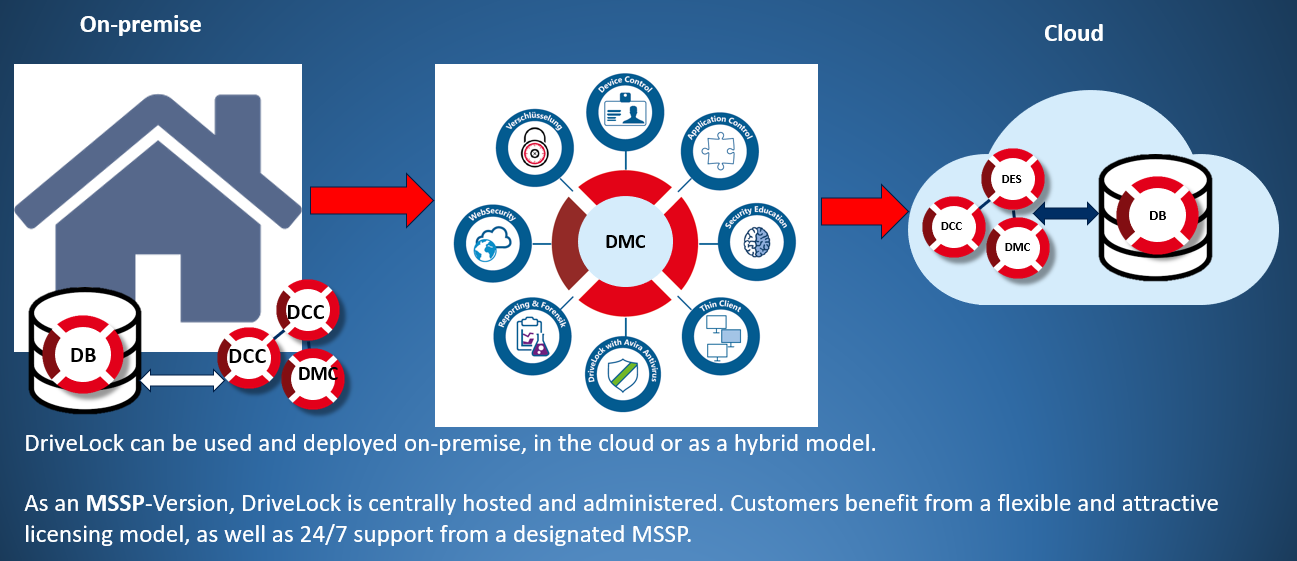 DriveLock Endpoint Protection Suite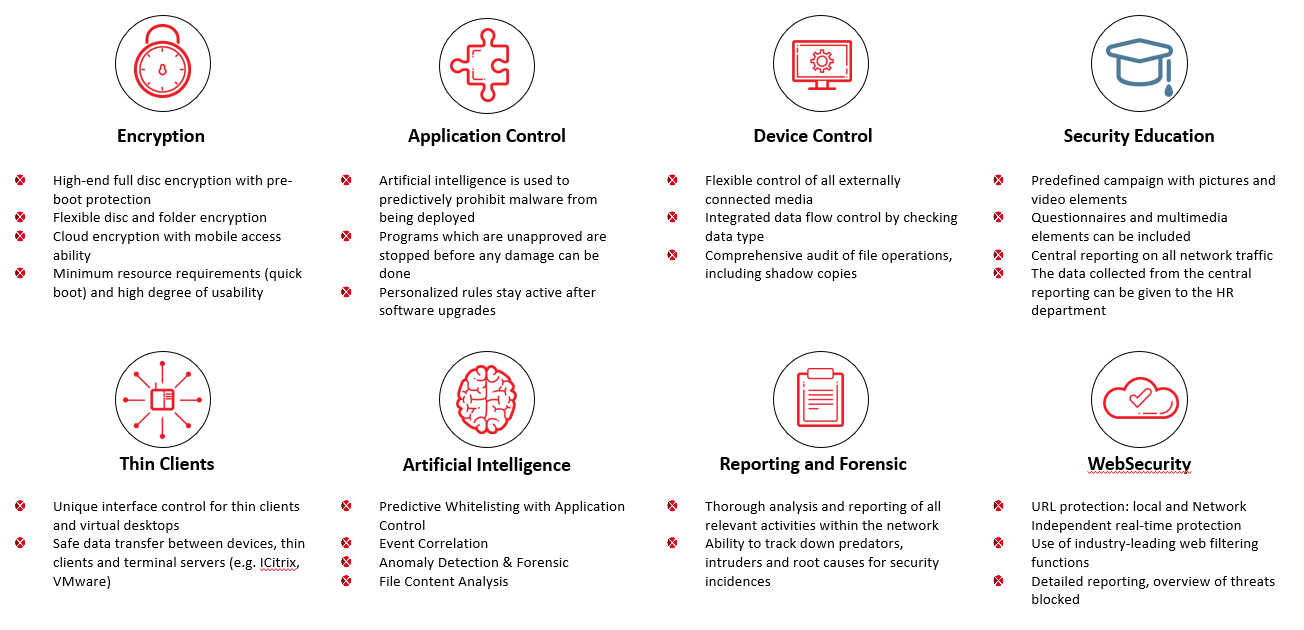 Untuk informasi lebih lanjut silahkan hubungi kami

Distributor Drivelock, Distributor Drivelock Indonesia, Partner Drivelock Indonesia, fDrivelock Endpoint Protection, Cloud Based Endpoint, Application Control, Device Control, Security Awareness, Vulnerabilty Management, Defender AV Management, Detect & Respond, Encryption, Zero Trust