AutoCAD® adalah merupakan software computer-aided design (CAD) yang diandalkan arsitek, insinyur dan profesional konstruksi untuk membuat gambar 2D and 3D yang tepat.
- Draf, anotasi, dan rancang geometri 2D dan model 3D dengan benda padat, permukaan, dan mesh
- Otomatiskan tugas seperti membandingkan gambar, menambahkan blok, membuat jadwal, dan banyak lagi
- Sesuaikan dengan aplikasi add-on dan API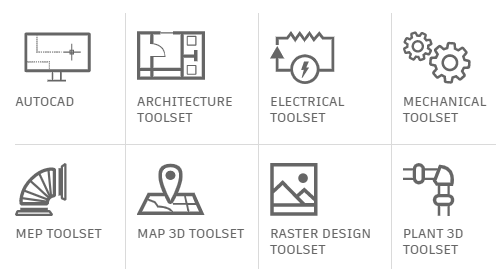 AutoCAD mencakup fitur khusus industri dan objek cerdas untuk arsitektur, teknik mesin, desain kelistrikan, dan banyak lagi.
- Otomatiskan denah lantai, bagian, dan ketinggian
- Gambar perpipaan, ducting, dan sirkuit dengan cepat menggunakan pustaka komponen
- Buat anotasi, lapisan, jadwal, daftar, dan tabel secara otomatis
- Gunakan alur kerja berdasarkan aturan untuk menegakkan standar industri secara akurat

AutoCAD + Architecture toolset

Speed up your architectural design
process with the Architecture toolset
included with AutoCAD.

AutoCAD + Electrical toolset

Save time on electrical designs with
the Electrical toolset included
with AutoCAD.

AutoCAD + Mechanical toolset

Create mechanical designs faster
using the Mechanical toolset
included with AutoCAD.
Untuk informasi penawaran harga silahkan Kontak kami.
autocad indonesia, distributor autocad indonesia, distributor autocad, partner autocad indonesia, autodesk, distributor autodesk